Technical translation services
Enlist the help of BeTranslated's technical translation services
Take the stress out of things with BeTranslated's technical translation services
The manufacturing industry continues to be the driving force of many economies all over the world, supplying us with almost every product around us, from heavy machinery, high technology equipment, aircraft, construction materials and tools, to products related to IT or vehicle production. All this is makes it necessary to translate technical manuals or instructions, and direct the language to the target market. BeTranslated relies on specialised technical translators who can help you translate these documents into your target language.
The advantages of professional translation for manufacturing
Throughout the production process, the conversion of raw materials, and the creation and completion of products, precision and clarity is essential when managing projects, as well as resolving technical problems, planning strategies, logistics and coordinating activities with clients.
This means that the most demanding areas of translation today include: operational processes, technical manuals, environmental and health information, regular meeting minutes, conferences or trade show presentations.
Standard Operating Procedures (SOP), meeting minutes, technical manuals, production processes and trade communications, should be translated into languages which will be used later on.
Technical translation serving the industry
Along with all the benefits that translation offers the manufacturing industry, the work of BeTranslated with factories and their offices all over the world has shown to be the key to its international success.
We are proud to offer the highest quality technical translations alongside the most competitive rates on the market.
We are a translation agency in Spain, working to and from Spanish, Catalan and other co-official languages. Take a look at our site to see the other areas of expertise that we can help you excel in, and request a free, detailed quote.
Contact BeTranslated and you will discover that we are more than capable of covering all the requirements of yours or your company's translation projects.
Manufacturers that use our work will be able to see a clear improvement in the efficiency of their communications and their technical understanding of problems and solutions. It will be equally clear to see an improvement in work flow and teamwork, especially among the organization's team members. Manufacturers who are currently in the process of international expansion will be able to explain that it is no longer just a matter of translating your website.
Descriptions and information sheets
Our featured technical translators
Professional Spanish-French translator
Roberto works as a full-time Spanish-English translator. He began his career in translating a long time ago after moving to the Basque Country. He is specialized in a range of fields, covering that of technical translation to translation in the trade sector, but the majority of his expertise is focused on real estate and tourism.
Specialized Spanish-English aeronautical translator
Maria Inés, expert translator from the Dominican Republic, brings her experience in the aeronautical sector and attention to detail, to spoil our clients at BeTranslated with her high quality Spanish to English translations. In addition, she also offers correction, editing and writing services. She is the representative for BeTranslated in all of Latin America.
Translator of new technologies from Spanish to French
Originally from the South of France, Frédéric has dual French and Argentine citizenship. After completing his studies in industrial engineering, he spent over 10 years working as a systems engineer, combining his passion for travel with his work. Frédéric translates from French to Spanish and is specialized in the fields of technology, computers and systems.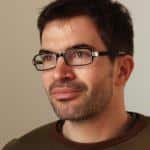 English-Spanish translator in science and technology
Pablo is specialized in technical and scientific translation after achieving a master's in scientific communication. He is perfectly bilingual in English and Spanish, as well as speaking French and Italian. Thorough and organized, Pablo has good general knowledge and is specialized in several fields, notably science and technology.
BeTranslated offers professional translation services in diverse sectors, working with specialised, native translators with years of experience.